Vynikající druhý díl... | Lola a kluk od vedle - recenze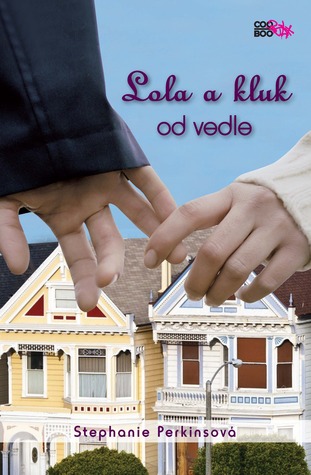 Název:
Lola a kluk od vedle
Název v originále: Lola and the Boy Next Door
Autor: Stephanie Perkins
Nakladatelství: CooBoo
Žánr:
romantika, oddechovka, YA
Série:
Polibek pro Annu #2
Lola Martins to má v životě krásně srovnané - má skvělého přítele a před sebou dlouhou kariéru módní návrhářky. Každý den nosí podle svého předsevzetí jiné oblečení a žije se jí dobře... Všechno se ale změní, když se do vedlejšího domu vrátí dvojčata Calliope a Cricket Bellovi. Lole se najednou vrací staré city a neví, jak se s nimi vypořádat. Má přece přítele, kterého miluje, nebo ne?
Na módu nevěřím. Věřím na přestrojení. Život je příliš krátký na to, abychom byli každý den stejná osoba. (~ str. 10)
Musím se vám přiznat hned na začátku. Stephanie Perkins je jednou z těch šťastných autorek, od kterých bych si přečetla i nákupní seznam, protože se vsadím, že i ten by byl zajímavější než leckteré knihy od jiných autorů. Styl psaní Stephanie Perkins je totiž chytlavý, ačkoliv často nepíše o ničem extra zvláštním...
Námět Polibku pro Annu byl například mnohem lepší než námět Loly. Bylo zajímavé pozorovat, jak se Anna v Paříži rozkoukává, zvyká si na školu, lidi kolem sebe a nový jazyk. Lola je ale vlastně jenom omílání milostného trojúhelníku. A víte co? Vůbec mi to nevadilo! Líbila se mi úplně stejně jako Anna a čtení jsem si moc užila. Taky jsem byla moc ráda, že se v knize objevovali Anna s Étiennem. Dokonce jsem se měla možnost setkat i s pohledem St. Claira na to, co se stalo v minulém díle. Tím mě Stephanie opět naprosto dostala - přece nepotřebuje psát dvě knihy o tom samém, ne?
Tato kniha byla, jak už jsem několikrát zdůraznila, mnohem více o postavách a o tom, co
se v nich odehrávalo, než o samotném ději. A musím říct, že tentokrát mi postavy skvěle sedly - dokonce ty negativní. (Nemůžu napsat zlé, protože žádné zlé tam nebyly!) Začněme tedy u Loly Martins: Hlavní hrdinka není ujetá. Je naprosto bláznivá a svým specifickým způsobem tak originální, že nikomu nepřipadá divná. Nejvíc se mi na ní ale líbilo její zdravé sebevědomí, které všemožné hrdinky (kašel, kašel Clary kašel, kašel) postrádají.
A Cricket? Až na svoje křestní jméno byl perfektní. Přesně takový, jaký by měl kluk od vedle být... Také jsem moc ráda, že Stephanie vytáhla na světlo ten příběh s telefonem. Já osobně jsem o tom věděla, ale jsem ráda, že se čtenář z téhle oddechovky může i něco přiučit.
"Dějepisný knihy jsou plný lží. Historii vypráví ten, kdo vyhrál válku."
"To nic nemění na tom, že byl Alexander chytrej. Pořád to byl vynálezce. Bereš si to moc k srdci. Život není o tom, co dostaneš, ale o tom, co UDĚLÁŠ s tím, co dostaneš." (~ str. 202)
Ale nebyly to jen hlavní postavy, které mi přirostly k srdci. Nebudete tomu věřit, ale už od začátku jsem zbožňovala Calliope. Nebyla mi zrovna sympatická, ale bylo mi jasné, že se její krutost nakonec zlomí. Ovšem nejúžasnější byl samozřejmě Andy. Jsem opravdu ráda, že jsem se konečně dostala ke knize, ve které se autorka nevyhýbá tématům jako manželství homosexuálů. Proč by se mu Stephanie vlastně vyhýbala? Ona ho dokonce rozebírá s takovou lehkostí, že si člověk pomalu ani ničeho nevšimne. Jsem za tohle téma opravdu ráda a doufám, že se něčeho podobného dočkám i ve třetím díle, na jehož české vydání se také moc těším...
Všichni mi tvrdili, že je Lola mnohem horší než Anna, ale mně se líbila úplně stejně, ne-li víc! Všechny postavy jsem si oblíbila a stejně tak styl psaní Stephanie Perkins. Dějově sice Lola za moc nestála, ale příběh i tak odsýpal a já jsem moc ráda, že jsem ulovila ten poslední neoluxorský kousek...
Kniha: 4/5
Marky
P.S. Veselé Velikonoce!